My first experience of Iyengar yoga was around 20 years ago as a Sports Science student. I wanted to explore new ways of working with my body and hoped that yoga would also help me cope with stress.  I had no idea yoga would become such an important part of my life and benefit me in so many ways.
I've since gone on to obtain a doctorate in Sports and Exercise Sciences, and worked for Cambridge University as a research scientist in psychiatry. Throughout this time I've marvelled at the power of yoga and its ability to enhance my well-being.  Yoga has been invaluable during tough times, giving me resilience and patience to cope with personal health challenges, including pregnancy and brain surgery.  So I can empathise with students who find yoga hard work and will help you to get out of your practice what you put in.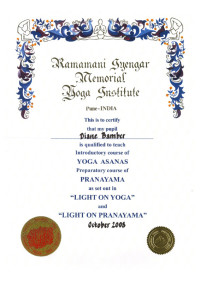 After qualifying as an Iyengar teacher in 2008 I moved on from academia to focus on teaching yoga. I love passing on my enthusiasm for yoga to people of all ages, and enjoy watching students progress over the years.
Whether you're a complete beginner or a more experienced practitioner, I look forward to exploring the many benefits of Iyengar yoga with you soon.
Very best wishes,